City College students and faculty gathered outside Conlan Hall on the college's main Ocean campus to protest 50 layoff notices issued by Chancellor David Martin on Tuesday.
The layoff notices, which were approved by the board on Feb. 24, will go into effect May 15. Full-time faculty can appeal their pink slips.
Martin said layoffs are needed as the school struggles with declining enrollment, which has affected its financial health for several years. As the school prepares for an upcoming visit from the Accrediting Commission for Community and Junior Colleges to determine whether the school will remain accredited through 2030, Martin stressed that the layoffs will be an important way to ensure the board accreditation that City College is taking concrete steps to become financially solvent and prevent a takeover of the school by the office of the California State Chancellor.
But the trustees' gamble to appease the accreditors (who are, in some ways, responsible for the current problems) has hit students and faculty hard, with instructors who spent years working at City College losing their jobs, and students no longer not knowing if they will be able to find classes that do not conflict with their work schedules.
Students and faculty in City College's ESL programwhose seven full-time teachers are being made redundant, say the cuts will limit accessibility to English language training which they say is crucial for immigrants and other non-English speakers to gain better job opportunities.
Debora Radaic, an ESL student from Brazil who is seeking a visa needed to work in the United States, said layoffs in the ESL department would have the biggest impact on working students by causing more time conflicts with their working hours due to fewer courses offered.
"I won't have options. If I have to work, if they cut afternoon classes or evening classes, I will only have one option. If I only have only one option and I have to work, how am I going to attend classes?" Radic said. "So cutting classes is devastating."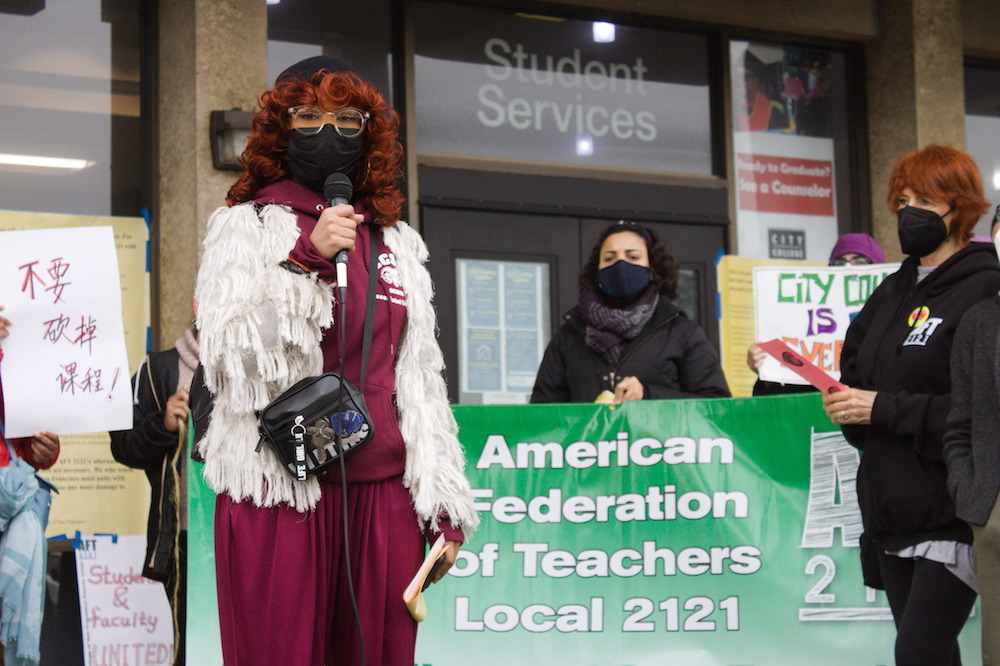 Part-time ESL instructor Karl Graham stressed the importance of the ESL program to the college itself, saying learning English can lead non-English speaking students to other college programs after learning enough language to take other courses. taught in English.
"ESL is the gateway to many other programs," Graham said.
Others expressed exacerbation over the college's history of cuts – many students and faculty are feeling deja vu in the wake of the new layoffs, about a year after another round of layoffs was approved , only to be narrowly avoided after faculty took salary concessions to cut costs.
A City College psychology student who identified hself as diamond said last year's budget cuts risked ending Project Survive, a student-led initiative that provides sexual violence prevention counseling and education through trained peer educators. Diamond said she found a community she identified with through the program after being referred there by her therapist and working as a peer educator.
"I was very shy and had a lot of anxiety, and thanks to this program I was able to get through that," Diamond said.
Project Survive isn't affected by the cuts this year, but it was nearly hit by massive layoffs last year, including layoffs at the women's and gender studies department that coordinates the program. Those layoffs were narrowly averted, but with the layoffs happening again, it has Diamond wondering if Project Survive will be there to help future students in need of guidance like her.
This is not the first round of redundancies during David Martin's time as Chancellor – 42 classified employees have been fired on January 3, enraging their union, SEIU Local 1021.
Arnie Warshaw, a member of SEIU Local 1021 and a classified English tutor for 14 years at City College, said faculty layoffs can also affect classified staff, such as tutors in subjects taught by faculty.
"If I didn't have teachers to work with, I couldn't work as an integrated tutor. So we are connected. said Warshaw.
SEIU Local 1021 and AFT2121 have formed the Revenue Unity Coalition, working together to advocate for more local funding for City College. AFT2121 also advanced a alternative budgetand say that by cutting expenses in certain areas while accounting for a COLA payment received by the college this year, the college can avoid layoffs and end the fiscal year with a budget surplus.
Warshaw called for more local funding for the city's college, including taxing wealthy individuals and corporations.
"I'm sick to death to hear there's no money," Warshaw said. "It's a matter of political will.
AFT2121 has called for a public forum with the administration and board on April 21, where they can present their alternative budget and hear responses from key college decision makers.
Chancellor David Martin did not respond to requests for comment.